I'm pleased to introduce our current featured Mega-Family Blogger, Debi from
"Who Says 8 is Enough?"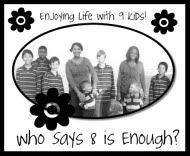 Having a Mega-Family is a challenge, but when one is confronted with agonizing emotional dilemmas, leaning on The Lord becomes the
only
way to wake up every day and keep living. Please read about Debi's excruciating trial
HERE
and keep her in your prayers.